Questions & Answers
How long is the oak naturally seasoned for, and why?
The thumb rule is for every half-inch thickness that the board is sawn to, it will require a minimum of one year of drying time. Therefore our table tops, which are two inches thick, take at least four years to dry out. The reason why we air dry all of our English oak is because Mother Natures ways are much kinder to the oak trees rather than forcing the moisture out. This, added to the fact that the air dried timber is so much sweeter to work with than the kiln dried oak.

Do you make furniture from any other species of wood other than oak?
No we use only very best quality naturally seasoned English oak (Quercus Robur)

How long does it take to carve a mouse?
This really does depend on the size of the mouse, and where it is on the piece of furniture. The Mouse trademark carved on our chair legs usually takes about forty-five minutes.

Are you able to tell which craftsman has carved a particular mouse?
Yes, each craftsman will carve a distinctive style of mouse that is recognisable to the trained eye.

Can I buy a mouse on its own?
No, we carve the mouse on each item of furniture that we produce as it is our registered trademark.

How do you get the honeycomb effect on the table and sideboard tops, and what it is it called?
The effect is created by hand using a carpenter's adze. This is known as an "adzed surface"

Is it possible to see the craftsmen at work?
Yes, we have a viewing gallery that gives visitors access to see the craftsmen at work within the workshops. The viewing gallery opening times are Monday - Thursday 8.00 a.m. to 5.00 p.m and Friday 8.00 a.m. to 3.00 p.m. Closed Bank Holidays, Easter week and two weeks at Christmas.

Are Robert Thompson's able to repair items of furniture?
Yes, we offer a full refurbishment service for any item of furniture that was manufactured by ourselves, including re-leathering chairs, repairing broken or damaged rails, and re-polishing.
Are you able to Deliver large items or furniture?
Yes, we are able to arrange delivery of any item of furniture from our extensive product range to almost anywhere in the world. We will be pleased to arrange for a quotation from our shippers on a clients behalf N.B. Please note all transport charges will be charged as an extra at cost.
Classic Mouseman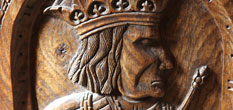 Robert Thompson's Classic items continue to inspire and delight collectors and buyers alike. Fine examples of classic mouseman furniture frequently go under the hammer around the world.
Bespoke Projects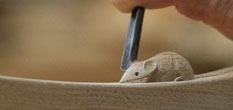 Robert Thompson's recently completed one of its most prestigious and secular commissions of recent times to provide bespoke bookcases and furniture for the Archive at the new London headquarters of NM Rothschild & Sons.