Welcome to our blog. For the latest news on Classic items becoming available, to limited editions and all that is current and interesting from our workshop.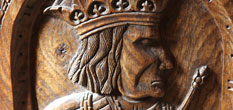 Workshop Blog Archive
2013
May 2013

Robert Thompson's recently purchased from A& J Scott Ltd, Wooperton, Northumberland, an exceptionally large burr oak tree. This particular tree had stood for over 450 years on farm land near Kirkby Lonsdale, Cumbria, and was starti...
10-05-2013